We offer a combined pest control package to protect you against mosquitoes and ticks in one go. We do this because we know mosquitoes are the most dangerous insects on the planet.
Similarly, ticks carry some of the worst viruses and bacteria.
If an infected mosquito or tick bites you, your suffering could be short-lived, with a rapid recovery and complete restoration of health. In the worst-case scenarios like Lyme disease, Ehrlichiosis, or Powassan disease, your health recovery is likely to be long-lasting and complex. In the case of chronic conditions, patients often never recover fully.
We are sincere when we say that we don't want you to have this negative health experience. The best way we can do to help you protect yourself is to provide traditional pest control services to limit your exposure to these insects.
Why Choose Traditional Tick and Mosquito Pest Control Packages?
There are pros and cons to choosing a traditional combo pest control package. These characteristics are due to treating pests with conventional products that contain permethrin.
All pest control companies use this product because it is effective and does the job quickly and efficiently. When facing the diseases that mosquitoes and ticks transmit, these qualities are precisely what you want.
Organic tick and mosquito pest control methods also have benefits and drawbacks. Read about these combo packages to decide which suits your lifestyle best.
Traditional Pest Control Pros
Permethrin is a registered product of the United States Environmental Protection Agency (U.S. EPA).
It works quickly and efficiently to control mosquito and tick populations that often carry life-threatening diseases.
It is safe for use on people, dogs, and the environment
It is used on foods and to protect crops.
Manufacturers use permethrin on clothing and mosquito nets to protect people.
It is unlikely to contaminate groundwater.
Microorganisms in the soil degrade this product.
Get Rid of Ticks and Mosquitoes the Conventional Way – Quickly and Effectively! Call us at (978) 325-1325 for your combo package quote.


Traditional Pest Control Cons
Human contact can cause headaches, nausea, vomiting, difficulty breathing, skin irritation, burning, and swelling. Medical attention is advisable should these symptoms appear.
Human ingestion can cause stomach pain, a painful throat, nausea, and vomiting. It is advisable to get medical help if this should happen.
Dog and cat exposure can cause unusual behavior like flicking paws, rolling on the ground, ear twitching, drooling, or lip-smacking. Anxiety and strange walking behavior may be present.
Tremors and seizures are possible. The owners should take their pets to the vet if they notice this behavior following store-bought insect control applications or otherwise.
Permethrin does not degrade well in water and is highly toxic to fish and other aquatic life (salt and fresh water).
Permethrin is not safe for bees.
Scientists have found trace amounts of permethrin in vegetables and fruits. However, only 1% of the 1,700 food samples they tested contained a trace of this product.
CONVENTIONAL TICK AND MOSQUITO PEST CONTROL SERVICES FROM SAFER NATURE IN MASSACHUSETTS. GET YOUR FREE QUOTE AFTER CALLING US AT (978) 325-1325.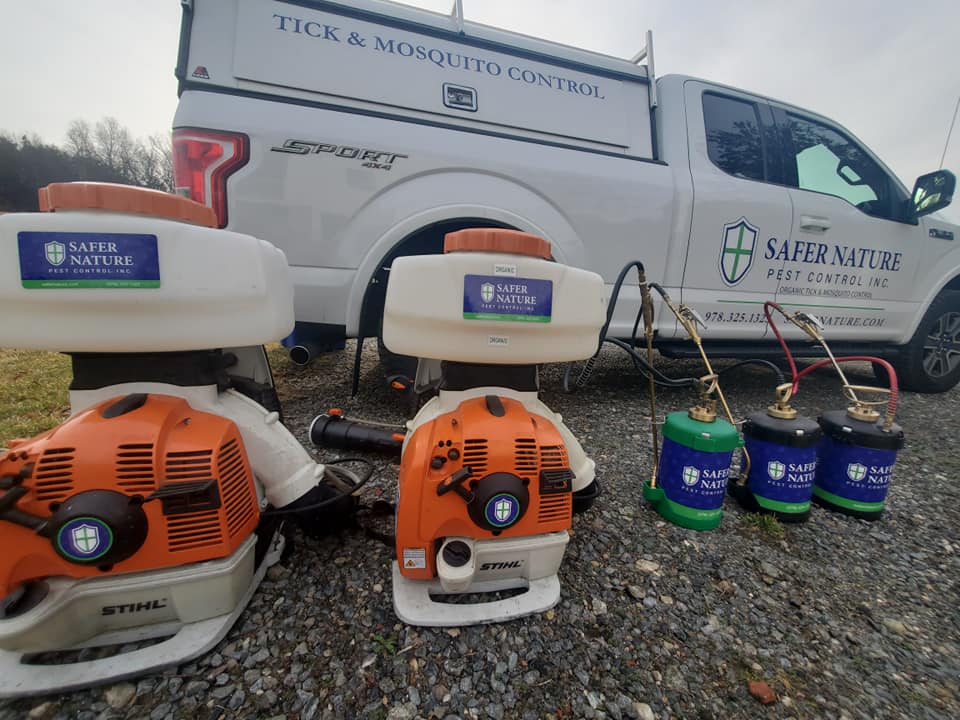 What You Get with Conventional Tick and Mosquito Combo Packages
Monthly control and Maintenance
A conventional combo package kills all tick and mosquito species.
Regular outdoor liquid applications every two to four weeks are necessary to maintain strong protection levels.
Request a once-off treatment before an event.
If our traditional pest control methods don't work like we say they will, we will provide another treatment on your property at no cost.
PLACE YOUR TRADITIONAL COMBO TICK AND MOSQUITO PEST CONTROL PACKAGE ORDER TODAY. PRICES DEPEND ON THE SIZE OF YOUR PROPERTY. REACH US AT (978) 325-1325.


Traditional Pest Control vs. Organic Pest Control
The FAQs section below can answer many questions about using the traditional pest control method. Many customers prefer the traditional approach because it is quick, convenient, and effective. Some customers choose the organic option when someone in their family is battling Lyme disease or something equally severe. Others like the organic route because it is gentler on the environment.
FAQs About Conventional Pest Control Applications
You can read more about the benefits and drawbacks of our organic and traditional pest control solutions to help you decide which is your best option. 
FAQs About Organic and Traditional Pest Control Services In Massachusetts
1. What is Permethrin?
We use permethrin in our traditional pest control applications. Permethrin contains properties similar to those in the chrysanthemum flower but is a synthetic product. Permethrin has been a registered product with the United States Environmental Protection Agency (U.S. EPA) since 1979.
2. Where is Permethrin Used?
Authorities use this product to protect crops like wheat, alfalfa, maize, and cotton. Other applications include its use on mosquito nets to protect stored animal products like sheep's wool. It also shields food, livestock, and pets from disease-carrying insects like mosquitoes and ticks.
Permethrin is also commonly used on clothing as a protective measure. Other uses of this application include its use in public places such as restaurants where food is prevalent.
3. How Does Permethrin Work?
This product is exceptionally effective because it starts affecting insects immediately after ingesting or coming into contact with it. This product impacts the insect's nervous system, starting with spasms, paralysis, and death. In other words, permethrin is lethal for insects because they cannot process this product.
In contrast, people and dogs can process permethrin well. However, cats are not designed to cope well with this traditional pest control application.
4. What Are Some Products That Contain Permethrin?
The U.S. Food and Drug Administration (FDA) regulates about 1,400 registered permethrin-containing products. So, permethrin has a prominent position in our modern society.
Besides companies using it to manage pest populations, it is present in multiple medications and other applications. For instance, it is present in aerosols, dusts, powders, pet shampoos, and liquids used for insect population control and protection.
Permethrin is in tick and flea applications that are made for dogs. This product is also used to protect livestock. Topical creams contain permethrin and are prescribed to treat lice and scabies infestations on people.
5. Are children more sensitive to permethrin than adults?
Tests have been conducted to determine the risk to health for humans and pets. No tests show that children are susceptible to permethrin compared with adults. However, suppose your child is sensitive to other products. In that case, keeping them away from areas where you use sprays, powders, or foggers to treat pests is advisable.