We understand the importance of keeping your family and pets safe from ticks and unwanted diseases. That's why we offer safe and effective tick control and management solutions using organic and traditional pest control methods.
According to the Centers for Disease Control and Prevention, certain ticks carry pathogens that can cause Lyme Disease, Ehrlichiosis, Anaplasmosis, Babesiosis, Powassan Virus, and other serious diseases.
Several tick species in Massachusetts and New England may spread bacteria that can cause illness. These tick-borne diseases make it essential to protect yourself and your family in every way possible.
Lyme Disease Statistics for Massachusetts
If you aren't yet aware of the dangers of tick-borne diseases in Massachusetts, look at a few official statistics for the State.
Massachusetts consistently has one of the country's highest rates of Lyme disease.
In 2020, there were 7,804 confirmed and probable cases of Lyme disease reported in Massachusetts.
Middlesex County had the highest reported cases in 2020, with 1,576 confirmed and probable cases.
Worcester County had the second-highest reported cases in 2020, with 1,394 confirmed and probable cases.
Most Lyme disease cases in Massachusetts occur between May and August, with a peak in June and July.
Lyme disease symptoms can include fever, headache, fatigue, and a characteristic "bull's eye" rash.
Lyme disease can lead to more severe symptoms, such as joint pain and swelling, heart palpitations, and neurological problems if left untreated.
Given the high rates of Lyme disease in Massachusetts, it's essential to take steps to prevent tick bites. If you suspect a tick has bitten you, see a rash, or experience flu-like symptoms, seek immediate medical attention. Safer Nature Pest Control's organic tick control services can help reduce your risk of tick bites and Lyme disease.
If you prefer, you can also explore our traditional pest control solutions for managing tick populations on your property. Looking at the benefits and disadvantages of organic pest control and traditional methods helps our customers make wise choices.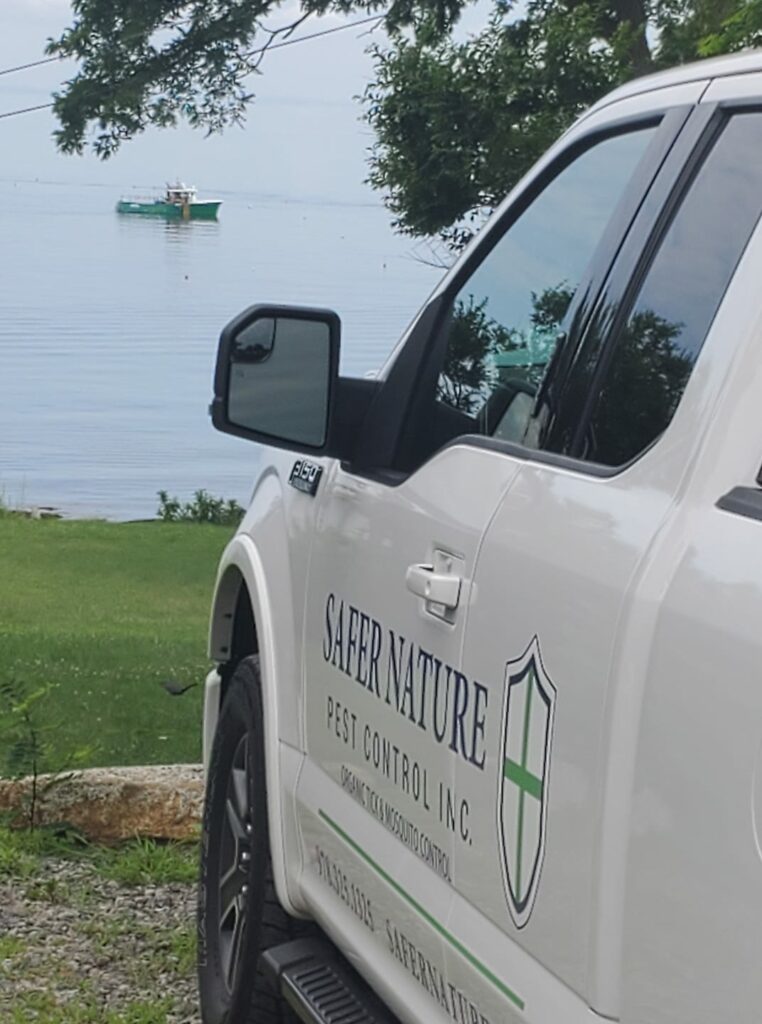 Our Tick Control Services Include
Tick Identification and Assessment: Our pest control team will identify the type of ticks present in your environment and assess the severity of the tick infestation.
100% Organic Tick Treatment: We use safe and eco-friendly methods to control ticks and prevent their return. Our treatments are safe for your family, pets, and the environment.
Tick Monitoring: We provide regular monitoring and follow-up services to ensure the tick population remains controlled.
We also provide tick and mosquito combo packages if you want convenient organic mosquito control services to manage both these pest infestations.
Call us at 978-325-1325 for your
free organic pest control services quote in Massachusetts today.
Benefits of our Organic Tick Management Services
Safe and Effective: Our organic tick management methods are effective and safe for people, pets, and the environment.
Prevention: Our services control existing tick populations and prevent new ones from forming.
Long-Term Solution: Our tick management services provide long-term solutions for controlling ticks in your environment.
Here's What Our Customers Have to Say
"We also were concerned with ticks and mosquitoes. So we signed up with the Safer Nature tick and mosquito control program, and it has worked great. Highly highly recommend. Very reasonably priced and courteous."
— ANDY K.
"Nothing but good things to say about Safer Nature's mosquito and tick service. After a disappointing two years using Mosquito Squad I was looking for a company both knowledgeable about pollinator safety and with effective results. Ryan's technicians thoroughly explained how their organic product works and took the time to map out where to spray to keep the mosquitoes away. Since starting Safer Nature's services, I can actually enjoy my patio at night without a single mosquito near me. I would highly recommend them to anyone looking for safe, effective, and consistent results."
— LYDIA S.
We are fully licensed and insured and stand behind all our services with a satisfaction guarantee and warranty.
Tips for Organic Tick Management
You can take back control of your environment from dangerous ticks by managing your environment with these tips:
Keep Your Yard Clean: Ticks prefer tall grass and dense vegetation, so keep your lawn trimmed and free of debris.
Use Natural Tick Repellents: Essential oils like lavender, peppermint, and eucalyptus can be used to repel ticks.
Wear Protective Clothing: When going outside, wear long-sleeved shirts, long pants, and closed-toe shoes to reduce your risk of tick bites.
Check for Ticks: After spending time outdoors, check yourself, your children, and your pets for ticks. Be sure to check hard-to-see areas like the scalp, behind the ears, and underarms.
Read FAQs About Our Tick and Mosquito Combo Organic Packages
Learn more about the benefits and drawbacks of organic and traditional pest control.
At Safer Nature Pest Control, we are committed to providing safe and effective organic tick management services.
Call (978) 325-1325 today to schedule your tick control consultation and keep your family and pets safe from ticks!